We offer drupal website maintenance and support services in Dar es salaam, Tanzania and across the world from a vast plethora of verticals. Our drupal maintenance and support services are aimed at offering a reliable, safe, secure and speedy drupal website and making the websites of our client firms accessible to the users of the internet across the world.
Regardless of whether we developed your website, software or application, our Drupal experts are fully equipped to handle any maintenance & support request you have. From meeting tight deadlines to scheduled maintenance or emergency support, we are here when you need us.
Our Drupal Website Maintenance Service includes: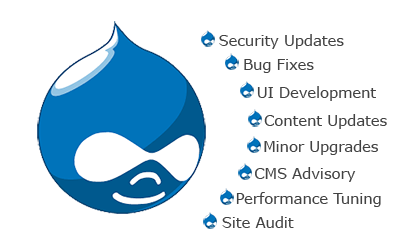 Drupal Maintenance & Security
Ensure that your site remains secure, up-to-date and functional with regular maintenance and security support. We offer a full range of maintenance and security services including security monitoring, maintenance upkeep, automatic backups, 24/7 emergency support, security audits, security updates, site audits, performance monitoring, performance tuning, and much more.
Drupal Upgrades
Take advantage of Drupal's latest core improvements, enhance your existing features and/or improve any weak points in your site with a Drupal upgrade. We can upgrade your entire site, or we can just upgrade your modules (plug-ins), features or core.
Drupal Feature Enhancements & Additions
Make your site more powerful by adding new features or improving your sites existing features. Features that include responsive web design, SEO, navigation and much more.
Drupal Design Updates
Get ongoing design updates to keep your site fresh and modern. We offer a full range of Drupal design services, including: theme design, graphic design, template design and much more.
What to expect from our Drupal Website Maintenance team!
We quickly become familiar with your website and how it works, making ongoing updates more efficient.
All updates are done in the development website and sent for your approval before it becomes live.
Whether it is a small content change or a critical functional update…we handle all tasks with equal care.
No task is menial to us; our team gives the same level of commitment and top quality service for all requests.
We have processes in place to ensure updates are thoroughly tested – you will have peace of mind
Drupal Website Maintenance and Support